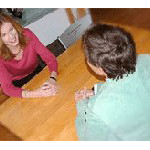 By Liz H. Kelly
Are you ready to attract the great love that you deserve? Do you want some help from an outsider who has been there, done that. We all work on career plans, financial goals, and learn the steps are needed to buy a house – so why not create a Great Love Power Plan?
As your Great Love Coach, we can customize packages based on your needs. Would you like to increase your Love Power in getting dates, flirting, kissing – you name it – we have been there, done that and can help. Here's the process that we review with Dating Coaching clients.
GREAT LOVE POWER PLAN includes:
P – Personal presentation, appearance, body language
O – Options for finding your Great Love. What is best for you?
W – What have you been doing? What works and doesn't work?
E – Energy, attitude and positive affirmations that can naturally attract Great Love.
R – Romantic desires, goals and next steps in a Great Love Power Plan.
For almost ten years, Kelly has been coaching singles from coast-to-coast on the phone and in person. Here are some examples of special requests from her coaching clients.
Opening Line Coaching – One of my coaching clients was extremely shy, and wanted help with how to ask women out in Los Angeles. He would get tongue-tied and freeze. Do you want suggestions for how to get more dates?
Body Talk Coaching – Do you want to enhance your body language that sends out over 60% of your messages? And how about some tips on your tone that is 30-35% of the message? One executive who I coached was way too serious and never smiled, which was a huge turn-off. You may not even realize what you are doing, and a coach can help you enhance your body talk.
Dating Options – Some people call me to find out more about their dating options, and the best ones for them. We go over their interests and desires, and then come up with an action plan. One entrepreneur/ student wanted me to go over the internet dating basics with her because she was new to game.
What are your dating desires? How can you enhance your Great Love Power? You can sign up for Dating Coaching to fast-track your road to great love.
To learn more about Kelly's Dating Coaching experience and advice, check out this article ABC News: Singles Hire Coaches to Improve Their Dating Game
Liz H. Kelly, Great Love Coach, Great Life Great Love, http://www.greatlifegreatlove.com, 2009