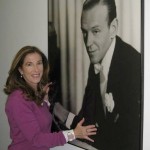 by Liz H. Kelly
What can we learn from the love triangle in the black and white classic, Casablanca (1942)? There are powerful Great Love examples in this movie that takes place during World War II, when Europeans flocked to Casablanca for safety. Ilsa (Ingrid Bergman) is in love with two men, the smooth and mysterious bar owner, Rick (Humphrey Bogart) and her war activist husband, Victor (Paul Heinreid). While you might get upset with Ilsa for her wandering eyes, the war circumstances explain how this love twist unfolds.
"The world will always welcome lovers as time goes by…"

1. Love Welcomed – When Rick and Ilsa first meet in Paris prior to Casablanca, their song was "As Time Goes By," which is a constant reminder of their affection when played by Sam at Rick's Café in Casablanca throughout the movie. When they fall in love in Paris, Ilsa's husband, Victor, is in a concentration camp, and she is not even sure if he is alive. Ilsa welcomes the love and affection of the handsome and warm, Rick.

2. Unquestionable Connection – Rick and Ilsa are passionately dancing, sipping champagne and cuddling on the couch in Paris. The body language reflects a deep connection between the couple that is unquestionable. When Ilsa discovers that her husband is still alive, she knows that she must leave Rick, and gets very dramatic with their parting kiss, ""I love you so much. I hate the war so much….If something should keep us apart…kiss me as if it's for the last time."

3. Adoring Fans – Rick adores Ilsa, and openly shares his feelings for her in Paris. He shares, "I was wondering why am I so lucky – why should I find you waiting for me?" When they reconnect later in Casablanca, Rick is hurt by her sudden disappearance in Paris. There is tension and misunderstandings because their love is so strong. Ilsa feels compelled to visit Rick late at night to explain the reasons why she left, and ask him to find a plan for them to be together.

4. Noble Sacrifice – When Rick has two letters of transit that give free get-away passes out of Casablanca, he fools everyone into thinking that he is running off with Ilsa, and that Victor will be left behind and arrested for murder. When Rick turns the papers over to Ilsa and Victor instead, he shows his respect for their marriage. When Ilsa confronts this decision, Rick insists that she stays with Victor, and tells her one more time his famous line.
"Here's looking at you kid." – Rick to Ilsa
While this was not exactly the ending we expected, the love story is powerful in Casablanca. Rick made a great sacrifice by giving up the great love of his life. This scenario is very sad. Think twice before choosing to be a hero over keeping a great love for life.
If you find someone who welcomes love, has an unquestionable connection to you, gives you compliments and is ready to make sacrifices for you, take a close look at this Great Lover. To fast-track your journey, watch this classic, check out my ebook, How to Attract Great Love and/or sign up for Life Script Coaching! You deserve an awesome life filled with great love!
© Liz H. Kelly, Great Love Reporter, Great Life Great Love, http://www.greatlifegreatlove.com, 2009