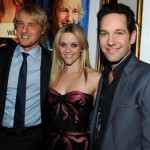 by Liz H Kelly
If you want to see a fun and light-hearted romantic comedy, How Do You Know with Reese Witherspoon (Lisa), Owen Wilson (Matty), Paul Rudd (George) and Jack Nicholson (George's dad, Charles) is the ticket this holiday. Lisa plays a professional softball player, who finds herself in the middle of a career crisis and love-triangle twists while searching for her "regular plan." Everyone in this movie is actually going through a self-discovery struggle, making How Do you Know the perfect title.
This movie will make you ask yourself the questions everyone wants answered:
How do you know if you're in the right job?
How do you know if you can trust your family?
How do you know what's most important in life?
How do you know if you're in love?
Even though Reese (Lisa) is 100% committed to her softball team's success, it doesn't mean her big boss values her contributions. When she finds herself dumped by the coach, Lisa gets her romantic priorities twisted between the arrogant sports player Owen (Matty) and the humble, lawsuit challenged Paul (George.) While Owen tries to break his playboy lifestyle, Paul is trying to play it cool when his world is crumbling.


Without giving away all of the laughs in this movie (the trailer already gives away too many), you really can't dislike this movie because the characters are perfectly cast. Reese (Lisa) questions everything about romance as she faces the reality that her sports career is over. Owen (Matty) plays the spoiled baseball star who suddenly decides that he wants Reese to move in, but is clueless about making emotional connections. Lisa gets easily distracted by Paul (George) because he's real and not into games. You can sit on the floor, laugh, and be yourself with Paul. And Jack Nicholson is being Jack in his reflection speeches to his son as their firm faces a lawsuit and major life decisions.
While How Do You Know only gets 3 stars in my book, this movie is a great reminder that when you're faced with career challenges, nothing is more important than your support team. And when looking for love, it's not about lust or fancy gifts. You want to find a Great Love who will make you laugh and back you up if you get cut from your team. For more dating and relationship advice and Great Love Reviews, visit Great Life Great Love. We love building success stories, and are here to help you!
Liz H Kelly, Great Love Reporter, http://greatlifegreatlove.com, 2010