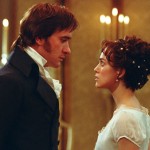 By Liz H. Kelly
Wow, have you seen the movie, Pride and Prejudice (2005) with Keira Knightly (Lizzie Bennett) and Matthew Macfayen (Mr. Darcy)? This film gets 5 stars in my book because it gives awesome examples of what works and doesn't work in relationships. You can see powerful Great Lover signs in their smiles and sincere messages, along with Bad Lover red flags that make you cringe.
BAD LOVER SIGNS
1. Awkward Frowns – In the opening ballroom scene, Mr. Darcy is visibly uncomfortable when Lizzie asks him to dance. When she boldly says, "Do you dance Mr. Darcy?" he replies, "Not if I can help it" with an awkward frown. Avoid approaching potential dates with pain written all over their face. They're self-conscious, and this uneasiness builds a wall around any relationship potential.
2. Money over Love – When Tom Hollander (Mr. Collins) brags about his inheritance and high society connections, Lizzie is completely turned off and refuses his marriage proposal. However, Charlotte (Lizzie's friend) is not as strong. Charlotte tells Lizzie, "I'm 27 years old, and I have no money and no prospects. I'm already a burden to my parents and I'm frightened so don't judge me." No matter what circumstances you face, avoid going for money over love. You'll end up divorced and/or very unhappy, and it's just not worth it.
3. Insecure Actions – When Mr. Darcy first proposes marriage to Lizzie, she refuses because he has hurt others in her family. She calls Mr. Darcy on his stuff, which includes breaking up Simon Woods (Mr. Bingley) and her sister Rosamund Pike (Jane Bennett) because her family was not considered good enough. Mr. Darcy's insecurities are the likely cause of these manipulations, and Lizzie is wise to reject his proposal. Run from anyone with low self-esteem who may get so wrapped in their own stuff that they can't see how their actions hurt others.
GREAT LOVER SIGNS
1. Happy Dance – In contrast to Mr. Darcy feeling extremely awkward at the opening ball, Mr. Bingley is completely enjoying himself while dancing with Jane. You can see the Great Lover signs in his beaming smile and by the way he holds her hand with confidence. Both Jane and Mr. Bingley are having a blast together. If you find someone who makes you laugh and you have fun together, you're on the road to great love. If someone is really into you, it will be hard for them to hide it. A genuine smile and warm affection are the first signs of great love.
2. Cheerful Attitude – Mr. Darcy later compliments the cheerful persona of Mr. Wickham. He tells Lizzie, "Mr. Wickham is blessed with such happy manners, he is sure of making friends." Someone who openly expresses genuine happiness is more confident inside, which means they're ready to give to others. Because they're at ease, they're not looking around the room wondering what everyone is thinking about them. If someone has an awesome attitude, you'll find that they're comfortable giving great love and will treat you with respect. Take a closer look at anyone who can work a crowd with big smile, ease and grace.
3. Heartfelt Love – When Mr. Darcy proposes to Lizzie the second time, she praises him for fixing the problems that she raised the first time he asked. She's impressed that he would go out of his way to make his wrongs right. Not only has Mr. Darcy encouraged Mr. Bingley to marry her sister Jane, he paid for Mr. Wickham's wedding to Lizzie's sister Lydia. His sincere intentions are now clear to Lizzie by his actions. She is ready to say yes this time when he confesses,
"You have bewitched my body and soul – and I love – I love you. I never wish to be parted from this day on." – Mr. Darcy to Lizzie
If you feel this heartfelt love from a partner, congratulations, you've hit the Great
Love Lottery! You can also have a classic, happy romantic ending. Keep searching until you see the Great Lover signs that Mr. Darcy and Lizzie show at the end of this Jane Austin tale. While it might feel like forever, you'll be so much happier waiting for an affectionate, confident and sincere lover. To fast-track your journey, watch Pride and Prejudice, check out my ebook, How to Attract Great Love and/or sign up for Life Script Coaching! You deserve a life filled with great love!
© Liz H. Kelly, Great Love Reporter, Great Life Great Love, http://www.greatlifegreatlove.com, 2009