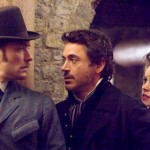 by LIz H. Kelly
If you love mysteries, London, and Big Ben, then Sherlock Holmes can take you there. However, if you're looking for romance in this film, it's even more of a mystery to find for Sherlock (Robert Downey Jr), Watson (Jude Law), Irene (Rachel McAdams) and Mary (Kelly Reilly). The biggest love lesson in this movie is avoid falling for a mystery man who is totally obsessed with work. Below are 3 romance clues that signal trouble based on this movie.
Romance Clues that should make you Run!
1. Watch out for Mystery Men with Mixed Messages
While we all love a little intrigue, Sherlock is so nonchalant about love that he becomes dangerous. When Irene notices her photo framed on his desk, he does not even flinch. Even though there is clearly sexual chemistry, Sherlock chooses to avoid any acknowledgement of feelings. He's so busy playing detective that he gives Irene mixed messages. If a guy is ready for a relationship, he will not let you get away, and especially twice.
2. Avoid Lovers with Obsessed Business Partners
Not only does Sherlock mess up his love life, he tries to destroy Watson's engagement to Mary several times. It's no surprise when Mary throws a glass of red wine at Sherlock at dinner. If you find yourself competing with your love's business partner, try setting boundaries. If that doesn't work, cut your losses.
3. Three Strikes and That's Enough
When Lord Blackwood (Mark Strong) tries to conquer London, Sherlock, Watson and Irene team up to trump him. When Irene confesses to Sherlock that he is the one way that Lord Blackwood knew how to get to her, Sherlock has a stone face response. Ok, that's it. Hasn't Irene had enough of this Mystery Man?
You'll need to watch the movie to see if Watson's romance with his fiancée Mary survives. While a Sherlock sequel is likely, romance will probably not be a priority. If you're ready for a relationship and tired of dating the wrong partners, contact Great Life Great Love for Life Coaching and/or Dating Coaching. We're here to help you build a Great Life to attract your Great Love.
© Liz H. Kelly, Great Love Reporter, Great Life Great Love, http://www.greatlifegreatlove.com, 2010