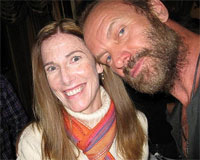 By Liz H. Kelly
Have you ever gone on a trip that was such a rich experience that it planted a smile on your face? To attract great love faster, fill you life with Rich Experiences like the one that I had at the Sundance Film Festival (where this photo was taken with Sting). Where can you go to enjoy your passions and fill your heart with positive energy?
As your Great Love Reporter, my passions have been working in the entertainment industry, watching movies and sharing the love lessons – so Sundance was a perfect match for my heart. When you find yourself in the middle of a rich experience, here are some tips for how to bring out the great love energy.
Rich Experience Tips

1. Be Cool
2. Be Patient and Persistent
3. Take Chances
4. Be Brave
5. Be Grateful
1. Be Cool – This film festival has a very cool, hip vibe, and all the celebrities are much more at ease. When we walked up Main Street in Park City, Utah, you found stars who stopped to let you take your picture with them. A few of this star-studded crowd that our entourage saw included Peter Gallagher, Mark Harmon, Paris Hilton, Jill Hennessy, Pierce Bronson and Ashley Judd.

2. Be Patient and Persistent – Fortunately, I hit the jackpot when I met Sting at an after-party for the movie, Crude. I was ready to go home, but fate had a different plan for me that night. If you find yourself in this type of situation, use my dating mantra, "be patient and persistent, and not desperate" to avoid giving off any kind of needy vibe. When I first got to Los Angeles, a TV Producer friend told me, "If you meet a celebrity, just joke around with them and act normal." This approach is exactly what you want to do on a date – and it worked for me at this party.
3. Take Chances – When my entourage told me that Sting was in the room, I thought to myself, "I see celebrities everyday in my Santa Monica, CA, neighborhood and he probably doesn't feel like getting mauled." Nevertheless, I followed the crowd, and to my surprise, we were right next to Sting on the dance floor. And then suddenly, I got the courage to show Sting the rose quartz heart bracelet that my friend Lee Dahlberg gave me that afternoon. I told Sting, "Wow, can you feel the positive energy in this room? I just got this Rock Band bracelet today and it has love energy." And Sting replied, "It's working, It's working.." followed by dancing. (You can see a photo of Lee giving me the bracelet on RockandTalk.com and get a 30% discount by visiting LeatherRockBands.com.)

4. Be Brave – Feeling braver now with the positive response, I took out my camera and said to Sting, "Would you mind taking a picture with me?" He replied, "Sure," and then he took my camera and shot a close-up of us together. Wow, the non-desperate, non-needy approach worked like a charm! And then we got a chance to watch Sting dance with his wife Trudie Styler. You could just feel the great love energy in the room!
5. Be Grateful – Consider each rich experience as a gift, and take time to thank friends who helped you make it happen! I thanked my festival entourage everyday for helping me win the Sundance lottery, as each day just got better and better.
You can also fill your life with rich experiences, and they don't have to be expensive. Find opportunities to fill your heart with joy and gratitude. Your renewed confidence will let your sex appeal shine so that you can naturally build a great life and attract great love. To fast-track your journey, check out my new ebook, How to Attract Great Love and/or sign up for Life Script Coaching!
© Liz H. Kelly, Great Love Repoerter, Great Life Great Love, http://www.greatlifegreatlove.com, 2009