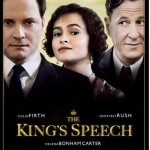 by Liz H Kelly
If you want to see a truly unique love story and Sundance film, check out The King's Speech with Colin Firth (King George VI, "Bertie"), Geoffrey Rush (Lionel Logue) and Helen Bonham Carter (Queen Elizabeth.) You'll be captured by the true insider's story about a man who unexpectedly becomes the King of England, and his support team who help him overcome his fear and challenges with public speaking. (Some studies have shown that fear of public speaking ranks up there with the fear of death – and most do not struggle with speech stutters like this king.)
Colin Firth will definitely get nominated for an Oscar for his performance of King George VI, who struggles with a speech stammer and loathes giving public addresses (a requirement of his job!) What's wonderful about this movie is the relationship with King George VI and his wife. During all of his challenges, she continually offers encouragement and kind words. Helen Bonham Carter is relentless in her pursuit to find a speech therapist who can help her husband with a breakthrough. King George IV also has two beautiful daughters (Princess Elizabeth and Princess Margaret) who unconditionally love their father, and share hugs and smiles throughout the film.


When the soon-to-be Queen Elizabeth finds Lionel Logue, he is non-traditional in his approach to speech therapy. What develops is another great relationship between King George VI and his therapist. Everyone wants friends to tell them the truth, but most would not dare be direct with a King. The beautiful thing in the teacher-student exchange between King George IV and Lionel is that it is a real dialogue where Geoffrey Rush constantly challenges Colin Firth. Instead of accepting his stutters, Lionel puts headphones with music on King George VI and asks him to read it out loud. When the delivery is perfect with the headphones, Lionel knows he must break through King George's psychological barriers.
King George VI is fortunate to have such great love support when he finally does take the crown, and must deliver a very important speech to England when they are about to enter World War II. It's an emotional speech that is delivered without stutters that hits the hearts and minds of his country and their troops facing battle. Winston Churchill (Timothy Spall) congratulates the King, and the crowds go wild with cheers!
For more Great Love Reviews with love lessons from the big screen, visit Great Life Great Love. You can also support the Sundance Film Festival and the arts, and salute our troops through the USO. And get ready for a fun Oscar night where this British film and actors will be recognized!
© Liz H Kelly, Great Love Reporter, Great Life Great Love, http://greatlifegreatlove.com 2010