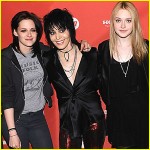 By Liz H. Kelly
If you're ready for a fun flashback to 1970s rock-n-roll love, you'll want to check out the hot Sundance hit, The Runaways, with Kristen Stewart (Joan Jett) and Dakota Fanning (Cherie Currie). Not only will this movie take you on the road with Joan Jett's first band, it shares the relationship challenges when dealing with fame. You don't want to miss this film when it's released in theaters March 19, 2010.
The craziness at the Sundance premiere seemed to parallel a popular rock concert or rocky relationship. After taking photos on the red carpet, and then fighting for a seat like musical chairs because they oversold tickets, we felt fortunate to see Joan Jett's story based on Cherie Currie's book. Some ticket holders were turned away, while others were in the waitlist line for 6+ hours and did not get in (despite 1270 seats at the Eccles Theater).
Joan Jett's song I Love Rock 'n' Roll really says it all about the love lessons in The Runaways. It's about challenges, twists and confusion that many of us felt as teens with raging hormones.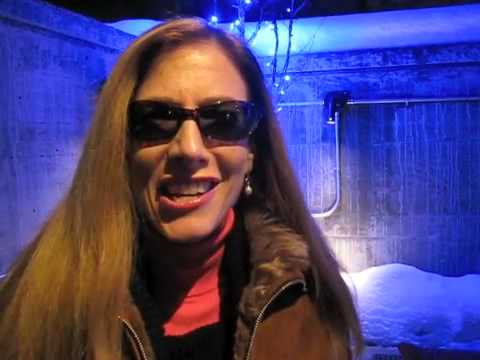 Rock-n-Roll Love Lessons
1. Rock-n-Roll Passions Challenge Love – What makes this movie so appealing is Joan Jett's unstoppable passion to make her all-female rock band a success. While they are making history, their training is so intense that there is little room for romance. When their manager, Michael Shannon (Kim Fowley) has guys throw things at the girls during practice to make them tougher, it challenges all thoughts about romance.
2. Role Reversals Twist Romance – While we have seen many women succeed in their careers by thinking more like men, this role reversal can hurt the love department. When The Runaways' manager advises them to think like a guy's body part (fill-in-the-blank) when they perform, it's so extreme that it twists what the teenage girls think about great love.
3. Love Experiments Create Complications – The girls experiment with love on the road with each other, in the shower and with other members of the road show. You'll find this movie brings out the complicated feelings many of us felt about love as teens (and are so glad to be past these years!).
In this rock-n-roll history, it's clear that Joan's # 1 priority is becoming a superstar over making romantic connections. You can have both, but it's a delicate balancing act. If you want some help finding great love, give us a call for Life Coaching and/or Dating Coaching. And go see The Runaways when it comes out in theaters. You don't want to miss the rock-n-roll love and Dakota Fanning's performance!
© Liz H. Kelly, Great Love Reporter, Great Life Great Love, http://www.greatlifegreatlove.com, 2010