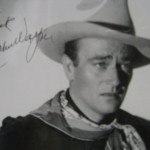 by Liz H. Kelly
What can we learn about love from the 43 Western Movies filmed in Sedona, Arizona? When I stopped by the Sedona Chamber of Commerce, a very helpful Ranger told me, "It was the women who had the tough job because the men would leave them for 6-8 months, and they had to do everything on their own." In these Western Movies, the women kept the relationships together when the men left for cattle calls, hunting or military assignments.
If you look at the movie titles, you'll see how the women were relationship challenged in the wild west. From Broken Arrow (James Stewart, Debra Paget) to Desert Fury (Lizbeth Scott, John Hodiak, Burt Lancaster), these films showed the strength of the women. Here's the complete list of Westerns filmed in Sedona.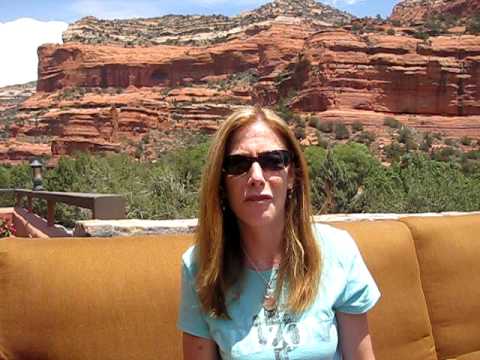 Westerns Filmed in Sedona's Red Rocks
1931 – Riders of the Purple Sage – George O'Brien
1932 – Robber's Roost – George O'Brien, Maureen O"Sullivan
1937 – Texas Trail – William Boyd, George Hayes
1941 – Billy the Kid – Robert Taylor, Brian Donlevy
1946 – Angel and the Badman – John Wayne, Gail Russell
1946 – California – Ray Milland, Barbara Stanwyck
1947 – Desert Fury – Lizbeth Scott, John Hodiak, Burt Lancaster
1947 – Cheyenne – Dennis Morgan, Jane Wyman
1947 – Last of the Duanes – George Montgomery, Lynn Roberts
1947 – Gunfighters – Randolph Scott, Barbara Britton
1948 – Albuquerque – Randolph Scott, Barbara Britton
1948 – The Fabulous Texan – William Elliott, Catherine McLeod
1948 – Corner Creek – Randolph Scott, Marguerite Chapman
1948 – Station West – Dick Powell, Jane Greer
1948 – Blood on the Moon – Robert Mitchum, Barbara Bel Gaddes
1949 – Tall in the Saddle – John Wayne, Ella Raines
1950 – Comanche Territory – McDonald Carey, Maureen O'Hara
1950 – Copper Canyon – Ray Milland, Hedy Lamarr
1950 – Eagle and the Hawk – John Payne, Rhonda Fleming
1950 – Broken Arrow – James Stewart, Debra Paget
1951 – The Red Head and the Cowboy – Glenn Ford, Rhonda Fleming
1951 – Indian Uprising – George Montgomery, Audrey Long
1952 – Half Breed – Robert Young, Janis Carter
1952 – Pony Soldier – Tyrone Power, Thomas Gomez, Penny Edwards
1952 – Flaming Feather – Sterling Hayden, Barbara Rush
1953 – Gun Fury – Rock Hudson, Donna Reed
1953 – Johnny Guitar – Sterling Hayden, Joan Crawford
1954 – Apache – Burt Lancaster, Jean Peters
1954 – The Outlaw's Daughter – Bill Williams, Kelly Ryan, Jim Davis (star of Dallas)
1954 – The Strawberry Roan – Gene Autry, Gloria Henry
1954 – Drum Beat – Alan Ladd, Audrey Dalton
1955 – Stranger on Horseback – Joel McCrea, Miroslava and John McIntyre
1955 – Johnny's Guitar
1956 – The Last Wagon – Richard Widmark, Felicia Farr
1957 – 3:10 to Yuma – Glenn Ford, Felicia Farr
1959 – Yellowstone Kelly – Clint Walker, Andrea Martin
1961 – The Legend of Lobo
1965 – The Rounders – Glenn Ford, Sue Ann Langdon and Hope Holiday
1967 – Stay Away Joe – Elvis Presley, Katy Jurado
1967 – Yellowstone Kelly
1972 – The Legend of the Boy and the Eagle
1972 – Fire Creek – Henry Fonda, James Stewart
1973 – The Wild Rovers – William Holden, Ryan O'Neal
1985 – The Quick and The Dead
The Sedona Chamber of Commerce Ranger also gave me the inside scoop on Elvis and Sedona. When Stay Away Joe (Elvis Presley, Katy Jurado) was filmed, Elvis insisted telephone lines be set up so he could call his mother in Memphis daily. And the last trivia about this magical place is that Sedona was named after a woman. Sedona was T.C. Schnebly's wife, and when they needed a name that fit on a postage stamp, his brother recommended Sedona.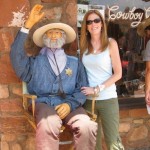 Sedona is also an awesome place to visit as part of your Great Life. By having rich experiences like Sedona, it can help you attract your Great Love (http://www.greatlifgreatlove.com). If the women in these black and white films could make it, you can get there too! It's an easy drive from Phoenix, and you will be in awe of the red rock beauty on this Western film set.
(c) Liz H. Kelly, Great Love Reporter, Great Life Great Love, http://www.greatlifegreatlove.com, 2009