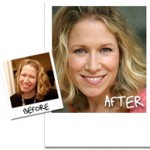 By Liz H. Kelly
Do you want some photo advice tips for how to look better online? Your internet dating picture is your first impression online so make it count using these five fun tips. Attract your Great Love type faster with an awesome photo that includes:

1. Focus On You in Photos
2. Be Casual and Cool
3. Wear Your Colors
4. Watch the Lighting
5. Choose Backgrounds Carefully

By taking time to make great photos, you will get more first dates and increase your odds of making a love connection. Based on interviews with hundreds of active daters for my book, Smart Man Hunting, and my experience as a newsletter photographer, we created photo advice tips for you.
Your first option is to get out the camera and find a good friend to take a ton of fun photos of you. When I took a professional photography course, the instructor told us that you have to take 100 photos to get 5 good ones. Ok, you probably don't need to take 100 photos, but take enough to get a few good shots (try taking a roll of 24 pictures).
If you prefer to go to the pros, I recommend that you contact Lookbetteronline.com to take your Internet dating profile photos. They have a network of 400 professional photographers throughout the U.S., who will take your profile photos and offer style advice. They can take casual shots that make you look marvelous!
No matter who takes the photos, you can use these five fun photo tips to attract more dates online:
Five Fun Profile Photo Tips:
1. Focus on You in Photos – For the primary photo especially, post photos that include you and only you. Because singles want to see you close-up versus your friends, the dog and your softball team, your primary photo should be all about you. You can include others in secondary shots, but photos are really about attracting first dates versus the introducing your family and friends. A 35-year-old lawyer asked me for advice on his profile photo. You could see his mistake immediately. While he cropped the picture, you could still see a woman's arm around his shoulder and her long hair. He said it was his sister, but how many women are actually going to bother to ask? Most women will just say Next! You'll get much better results if the photos focus on you, and only you.
2. Be Casual and Cool – Post a casual shot in something that you would wear to a first date. Avoid the corporate mug shots where you might look too serious. I coached a guy to remove his tie and suit jacket photo, and recommended replacing it with a birthday party photo. In this much more casual shot, he was wearing a black button-down shirt with a fun and inviting smile. After this fun photo was posted, he received 35 emails the next day from women. I've actually had a lot of men ask me how to get more responses online – guys, go get a great photo!
3. Wear Your Colors – Pick out colors that are good for your skin tone. The good news is that you're naturally drawn to your colors so you probably already know what makes you look sexy. If you want some additional advice, you can hire a style consultant or contact Lookbetteronline.com for a photo makeover that includes fashion advice. For example, I went to a style consultant who told me, "I want you to wear blues and greens and v-necks versus scooped neck shirts." This advice has been extremely helpful for picking out my best looks for photos and dates. Wear your complimentary colors and styles to attract Rich Love.
4. Watch the Lighting – Because lighting can greatly impact the quality of a photo, take your pictures in different settings so you have options. I coached a guy who was had just started Internet dating. He told me, "Wow, I got so many emails, but I can't see the faces of many women in their photos. I wish that I could see them." If you have a point and shoot camera, you might not be able to adjust the lighting. Use trial and error and photo editing tools to find the right light. For the best results, try taking shots inside with a red-eye reduction flash, and then outside when the sun is setting to get a warm glow.
5. Choose Backgrounds Carefully – The background in a photo can make a huge difference. Try different backgrounds and make sure nothing is sticking out of someone's head by accident. When a woman recently asked me for photo advice, I immediately saw that her blonde hair was blended into a tan wallpaper background. She was so much more attractive than this photo presented her online. I recommended that she get her photos taken by the pros at Lookbetteronline.com, and wow what a difference the professional shots made! Try including a mix of colors by taking photos outside where you can get blues and greens in the background.
Your profile photo is the best way to attract the dates that you desire. When singles are scanning through hundreds of profiles, if not thousands, you want to have an awesome photo to catch their attention. Whether you get a friend to take better photos or hire the professionals at Lookbetteronline, you'll make a great first impression and significantly increase your odds of finding Rich Love with the right photo.
Happy Hunting and Photo Posting!
© Liz H. Kelly, Great Love Coach, Great Life Great Love, http://www.greatlifegreatlove.com, 2009