Archive for desert safari
You are browsing the archives ofdesert safari | Great Life Great Love.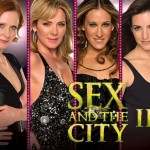 If you're ready for a fashion feast and Middle Eastern escape with the girls, go see Sex and the City 2 with Sarah Jessica Parker (Carrie), Kristin Davis (Charlotte), Cynthia Nixon (Miranda) and Kim Cattrall(Samantha) as they "Carrie On" two years after the first movie. Even though this sequel is long (2 ½ hours), the writer cleverly keeps your attention with a road trip to Abu Dhabi. We won't spoil the movie here, but rather comment on the fashion parade and their great United Arab Emirates adventure.