Archive for facetime
You are browsing the archives offacetime | Great Life Great Love.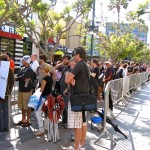 When Apple released it's iPhone 4 last Thursday, the record pre-order reservations (600,000) and long store lines (many reporting up to a 12 hour wait) make you wonder if this love affair with a cell phone has gone overboard? Have iPhones become more important than romantic relationships? If you saw the Manhattan Beach Village Mall (video below) line wrapped around Macy's, you'd say it looks like the same crazy draw that we feel when we first start building a Great Love relationship.