Archive for Hollywood Boulevard
You are browsing the archives ofHollywood Boulevard | Great Life Great Love.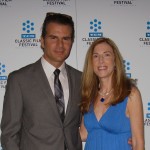 Great Life Great Love is about building a Great Life to attract Great Love, and teaches about love through lessons from the big screen. To bring you insights from Old and Young Hollywood, we went to the TCM Classic Film Festival in Los Angeles last week, and interviewed Baltimore actor Vincent De Paul about his lunch with Luise Rainer (the first woman to win two consecutive Academy Award Winner) and many movie projects. We also photographed a rare moment where Luise talked about her Great Love in a live interview with Robert Osborne from TCM.