Archive for Jeff Goldblum
You are browsing the archives ofJeff Goldblum | Great Life Great Love.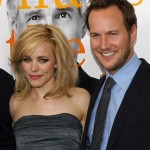 If you're ready for some great laughs and romantic comedy, check out Morning Glory with a 5-star cast: Rachel McAdams, Harrison Ford, Diane Keaton, Jeff Goldblum, Ty Burrell and Patrick Wilson (aka Rachel's great love interest.) When Rachel (Becky) gets fired from her Good Morning New Jersey producer job, it's the best thing that ever happened to her. When knocked down, Becky's career comeback is truly entertaining and inspirational.