Archive for Leap Year
You are browsing the archives ofLeap Year | Great Life Great Love.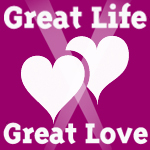 Great Life Great Love shares love lessons from the big screen, and is happy to release our Top 10 Romance Movies for 2010. We're missing Sandra Bullock's The Proposal and All About Steve this year, but we've had some good films so far, and there are more on the way from Hollywood. My prediction is that the best romance movie of 2010 will be Morning Glory or Love and Other Drugs (Out Thanksgiving.) Below are movie ratings and Great Love Reviews (No Spoilers!) for our Top 10 picks. Let us know your favorites.

If you're ready for a great love escape to Ireland, check out the romantic comedy, Leap Year with Amy Adams (Anna), Matthew Goode (Declan) and Adam Scott (Jeremy). While Anna is on a mission to propose to her boyfriend, Jeremy, who is on a business trip in Dublin, she runs into twists and turns that will surprise and entertain you. Anna's quest is based on an Irish tradition that women can propose on Leap Day, February 29th.