Archive for Michael Shannon
You are browsing the archives ofMichael Shannon | Great Life Great Love.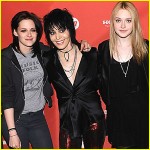 If you're ready for a fun flashback to 1970s rock-n-roll love, you'll want to check out the hot Sundance hit, The Runaways, with Kristen Stewart (Joan Jett) and Dakota Fanning (Cherrie Currie). Not only will this movie take you on the road with Joan Jett's first band, it shares the relationship challenges when dealing with fame. You don't want to miss this film when it's released in theaters March 19, 2010.