Archive for Pat Mitchell
You are browsing the archives ofPat Mitchell | Great Life Great Love.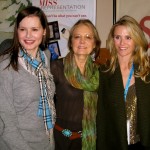 After coaching both men and women how to increase their self-esteem as a Life and Love Coach, the celebrity panels for Miss Representation and Women in Film at the Sundance Film Festival hit close to home. My latest project, Great Life Great Love, is about helping singles build a Great Life to attract Great Love. If you love yourself first, it's much easier to attract great relationships. We all want to feel good inside, and it's important that media images fuel confidence over fear. With 51% of the US population being female, Miss Representation is a call-to-action for both men and women to change the media perceptions of women.
Live from the woods in Alaska (or is it?), Relationship Expert and Author Liz Kelly shares her Great Love Review for the hot movie, The Proposal, with Sandra Bullock and Ryan Reynolds. Find out what happens when a Cougar Boss leaves New York City to Sitka, Alaska, for Ryan's big family weekend. For more love tips and fun movie reviews, visit, http://www.greatlifegreatlove.com