Archive for Winter's Bone
You are browsing the archives ofWinter's Bone | Great Life Great Love.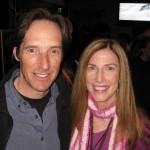 Great Life Great Love is about building a Great Life to attract Great Love. Since my passions are talking about love and movies, Sundance is my perfect match. To spice up your life, we went on a hunk hunt to capture these photos plus a special video interview with Lee Dahlberg. By taking more chances, most celebrities were open to talking after a movie, at the ski lodge and on Main Street. From Adrien Grenier (Entourage) to Tate Taylor (Winter's Bone), the stars were out promoting their latest work in Park City.