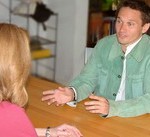 Do you wonder if you are in a Great Love Relationship with the right person? Whether you've just started dating someone or been in a relationship for a long time, you can learn more from this compatibility check.
Let Kelly review your key strengths and partner's personality to see if you are a match. This is a fun compatibility check based on the main personality types in Kelly's first book, Smart Man Hunting and the top ten Great Love Star Qualities essential for a relationship.
You can quickly find out if you are complimenting or clashing with your partner using this compatibility check coaching. You'll also find out quickly if they are a Great Lover or a Bad Lover, and if the rich qualities are strong enough to get you over the challenges.
Compatibility Coaching Options
One Hour Initial Coaching – $100.00/ hour – Add to cart
Looking for more Great Love tips? You'll find books, audio CDs and coaching services in
Great Love Store
.