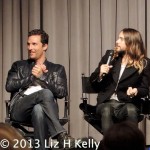 With Oscar Sunday on March 2, 2014, Hollywood is buzzing with 9 Best Picture candidates. To help you with your Oscar Polls, below are our favorites, in order of priority. Our top 4 picks are "12 Years a Slave," "Dallas Buyers Club", "Captain Phillips" and "Her". We love "Her"! Who do you think will take home the gold?
1. 12 Years a Slave – "12 Years a Slave" is by far the Best Picture of the year IMHO. The masterpiece has great depth, and is based on a true story that will make you think deeply about US history. We were fortunate to hear Chiwetel Ejiofor (Solomon Northup), Lupita Nyong'o (Patsey) and Director Steve McQueen during an Oscar Screening Q&A hosted by The Wrap that you can watch in our Q&A VIDEO: Chiwetel Ejiofor, Lupita Nyong'o, Steve McQueen. Chiwetel won at the BAFTA Awards, and Lupita won top honors at the SAG Awards.
2. Dallas Buyers Club – Matthew McConaughey (Ron Woodroof), Jared Leto (Rayon), and Jennifer Garner (Eve) hit it out of the ballpark in "Dallas Buyers Club." I was fortunate to attend a special screening at the Paley Center in Los Angeles with a Q&A with the cast, which you can watch in our Q&A VIDEO.
3. Captain Phillips – We loved Tom Hanks (Captain Richard Phillips) and Barkhad Abdi (Somali Pirate Captain) in this true story thriller about Somali pirates taking over a massive cargo ship. We saw this movie twice in the theaters because the second time included a LA Times Q&A with Tom Hanks, Barkhad Abdi and the director.
4. Her – Ok, we just love "Her." Joaquin Phoenix, Amy Adams and Scarlett Johansson capture the deep feelings of a lonely guy who falls in love with his computer. While this concept may seem odd, technology changes the way we communicate daily and we might just see people having relationships with their hard drives in the near future. Spike Jonze is likely to win Best Original Screenplay for this masterpiece. If you have not seen this film and use a computer, don't miss it!
5. Philomena – Judi Dench and Steve Coogan are brilliant in "Philomena" that is based on a true story. A world-weary political journalist (Steve Coogan) decides to cover the story of an Irish woman (played by Judi Dench) who searches for her son for 50 years. It's a heartbreaking story that will make you really dislike the nuns who took her son away when she became pregnant while living in a convent. It won Best Adapted Screenplay at the BAFTA Awards, and is definitely a contender, but not likely to win "Best Picture."
6. American Hustle – David O Russell ("The Fighter") put together an award-winning cast for "American Hustle", and their Oscar campaign is well-funded. Christian Bale, Amy Adams, Jennifer Lawrence and Bradley Cooper are all nominated for Oscars. The main reason why this film is low on the list is that the story just didn't do it for me. A great film makes you forget about everything else and be in constant anticipation of what's next, and "American Hustle" missed the mark here.
7. Gravity – While "Gravity" is a cool adventure in space and Sandra Bullock is amazing in this role, this film is just not a Best Picture. While it's hard not to adore George Clooney, Hugh Jackman (ok, we love him!) would have been a much better choice for an experienced astronaut by her side. This movie will win Best Cinematography, and that is the story here.
8. Nebraska – We loved the Black and White footage and the story behind "Nebraska" starring Bruce Dern (Woody Grant) and Will Forte (David Grant). We've all received the Publisher's Clearing House Sweepstakes and dreamed of winning, but few have ever walked to Lincoln, Nebraska, to pick up their winnings at their office. While the story is sad, it will also make you laugh at the silliness. Alexander Payne ("The Descendants") is also nominated for Best Director, and Bruce Dern for Best Actor (who may be a surprise upset win).

9. The Wolf of Wall Street – This film is just way too long to be considered for "Best Picture". You can figure out that the 1980s was about cocaine and greed in much less than three hours. Yes, Leonardo DiCaprio (Jordan Belfort) gives a brilliant performance, but the only Oscar scene is the "delayed Quaalude response" where Leonardo crawls to his car. Jonah Hill (Donnie Azoff) is also nominated for Best Supporting Actor, but competition is just too steep for a win here.
Who are your picks for Best Picture? Let us know in the comments if you agree or disagree with our favorites, and then we'll compare notes on Oscar Sunday March 2nd.
© Liz H Kelly @LizHKelly, Great Life Great Love, http://greatlifegreatlove.com