If you'd rather listen to internet dating profile tips from a dating pro versus read a book, check out this fun and entertaining audio CD: How to Find Love Online. Let Liz Kelly be your Dating Coach and Cheerleader during this 45-minute Audio CD that includes 6 tracks:
Hollywood Introduction
Winning Profile Tips
Five Fun Photo Tips
How to go from Emails to First Dates
Smart Safety Tips
Maximizing Results with Fun Features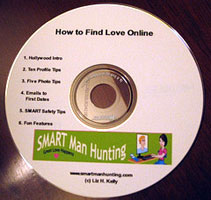 This CD is a bargain. Order How to find love online for $19.95 – Add to cart
(includes shipping for all U.S. orders).
Looking for more Great Love tips?
You'll find books, audio CDs and coaching services in Great Love Store