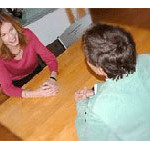 Are you truly in love with your life? Are there any missing pieces that deserve your attention? When I coach singles how to attract a Great Love, the first thing that we do is look at their Life Script. It's not a long process, and I can easily identify what is missing from your rich love foundation using my SCRIPT approach.
If you periodically check your Life Script and make updates, you will more naturally attract the Great Love that you deserve. When I've browsed internet dating profiles, I stopped counting how many said, "I want someone who is happy," or "I am not looking for baggage."
Confidence is the greatest sex appeal out there, and we need to come up with a plan to build your total package. You can become a love magnet using this Life Script Coaching Program.
We can meet for an hour over coffee or on the phone to get started. Many coaching clients sign up for my five-hour program. It's up to you. I want you to find the rich love that you deserve.
"I think Liz is a very positive, encouraging, motivating, energetic, and inspirational coach who I've had the privilege of working with. Not only has she helped me reach my goals in business and dating, but also in other perspectives in my life. I whole heartedly recommend her as a coach. She is smart, passionate, and dedicated to her work and puts all of herself out there to assist people."
– Thank you Liz – Nikos, 24, Los Angeles, CA
Great Love Coaching Options
One Hour Initial Coaching – $125.00/ hour – Add to cart
Five Hour Life Script Coaching – $425.00 (you save $200.00) – Add to cart
Ready to start this coaching program to help you live and love great?
Looking for more Great Love tips? You'll find books, audio CDs and coaching services in
Great Love Store
.