Let the pros at LookBeteronline.com make your profile photos look fantastic!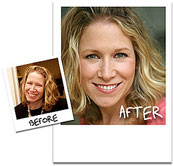 Put Your Best Face Online – Invest in a Photo Makeover for your internet dating profile. Let the pros at LookBetteronline.com take your photos. They'll help you be casual and cool, and attract your true love faster online.
Increase your Profile Responses – With a great photo, your responses will be 10 times more. Don't delay getting some awesome photos. And if you want my advice, sign up for a complete Profile Makeover (link to Profile Makeover page), where I'll give you feedback based on my photography background (your friends won't tell you the truth. I will be honest so you can look awesome!l)
Ready for your Photo Makeover? – Sign up now through our partnership page on LookBetteronline.com
Looking for more Great Love tips? You'll find books, audio CDs and coaching services in
Great Love Store
.