Archive for compatibility check
You are browsing the archives ofcompatibility check | Great Life Great Love.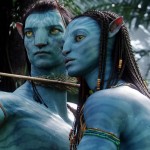 If you're ready for a new visual experience and Great Love Magic, go see the hot movie, Avatar. The love story between Jake Sully (Sam Worthington) and Neytiri (Zoe Saldana) is even more spectacular than the scenery. Jake is sent by the military into the forests of Pandora with an "an Avatar" identity so he looks like the Na'vi natives. While his primary mission is to build trust and get counter intelligence, Jake has no idea that he will find Great Love Magic when he meets Neytiri, daughter of the King.