Archive for Topher Grace
You are browsing the archives ofTopher Grace | Great Life Great Love.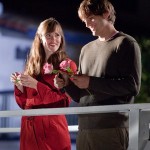 If you're ready for an all-star cast, laughs, and every emotion in the book, check out Valentine's Day with Ashton Kutcher, Jennifer Garner and 18 other Hollywood box office leads. While the story plays like Love Actually where you're following way too many relationships, there is one big love lesson in this romantic comedy that Gary Marshall cleverly brings out.