Archive for Eccles Theater
You are browsing the archives ofEccles Theater | Great Life Great Love.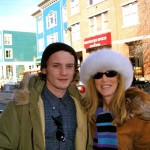 If you've ever struggled with a long-distance relationship, Like Crazy is for you. In this entertaining Sundance 2011 hit, Drake Doremus (Director), Anton Yelchin (Jacob) and Felicity Jones (Anna) capture the heartache involved in long-distance love. This young couple has extraordinary circumstances with a 6,000 mile distance between London and Los Angeles, and you can feel every emotion that they're going through as they text each other, deal with time zone differences, and wonder what the other person is doing all the time. Jennifer Lawrence (Oscar Nominee for Sundance hit, Winter's Bone) works with Jacob, and plays a much different role as Jacob's distraction when the couple spends months separated. Many congrats to Drake Doremus for winning the Grand Jury Prize Drama at the festival (same prize Precious won.)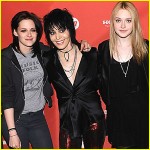 If you're ready for a fun flashback to 1970s rock-n-roll love, you'll want to check out the hot Sundance hit, The Runaways, with Kristen Stewart (Joan Jett) and Dakota Fanning (Cherrie Currie). Not only will this movie take you on the road with Joan Jett's first band, it shares the relationship challenges when dealing with fame. You don't want to miss this film when it's released in theaters March 19, 2010.