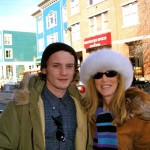 by Liz H Kelly
If you've ever struggled with a long-distance relationship, Like Crazy is for you. In this entertaining Sundance 2011 hit, Drake Doremus (Director), Anton Yelchin (Jacob) and Felicity Jones (Anna) capture the heartache involved in long-distance love. This young couple has extraordinary circumstances with a 6,000 mile distance between London and Los Angeles, and you can feel every emotion that they're going through as they text each other, deal with time zone differences, and wonder what the other person is doing all the time. Jennifer Lawrence (Oscar Nominee for Sundance hit, Winter's Bone) works with Jacob, and plays a much different role as Jacob's distraction when the couple spends months separated. Many congrats to Drake Doremus for winning the Grand Jury Prize Drama at the festival (same prize Precious won.)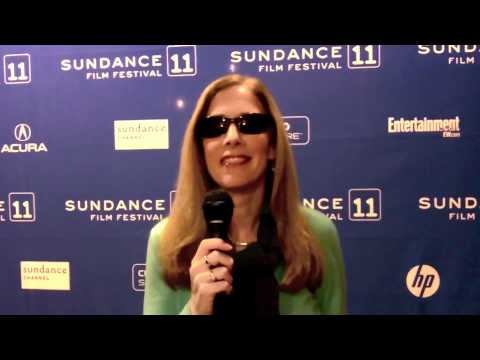 When Anna and Jacob fall hard for each other while going to college in Los Angeles, they don't expect to be separated for months due to Anna's Visa challenges. During their geographic divide, the couple thinks about dating other people, getting married, and moving. These are all questions that anyone in a long-distance relationship needs to address, which makes this film very relatable (except 6,000 miles is a stretch.) You'll also love Alex Kingston (Jackie) and Oliver Muirhead (Bernard) as Anna's supportive parents in this film, which Drake Doremus discusses in the Q and A in this Youtube video: Great Love Review – Like Crazy.
When I bumped into Anton Yelchin on Main Street after the premiere, I told him that his film helped me coach an actress from Los Angeles at a party. She will remain anonymous, but has been on big TV hits like 90210. Her long distance love is between Los Angeles and San Francisco, and I gave her the same advice that I would give the couple in Like Crazy – which is communicate, communicate, communicate. While you don't want to come across as needy or desperate, you need to talk about whether you're going to see other people, and whether it is realistic to ever be in the same city. If you're not talking, you can waste a huge amount of time in a fantasy land, which I want this actress to avoid.
You'll need to see Like Crazy to find out if Jacob and Anna go the distance. Paramount Pictures just picked up the film so it will come to a theater near you. And if you want some more love tips, Dating Coaching, and Great Love Reviews with love lessons from the big screen, visit my website, Great Life Great Love.
(C) Liz H Kelly, Great Love Reporter, Great Life Great Love, http://greatlifegreatlove.com, 2011