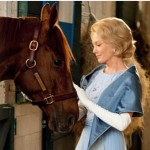 By Liz H Kelly
If you're ready for inspiration, go see the movie Secretariat with Diane Lane (Penny Chenery Tweedy). It's about the powerful Great Love Relationships between a horse, owner and champion team. Penny's focus and determination results in the 1973 Triple Crown winner (race video below). To reach this dream, she gets challenged by her husband, Dylan Walsh (Jack Tweedy) and brother, Dylan Baker (Hollis Chenery), who want to sell Secretariat and Meadow Farm in Virginia when her parents pass away. Penny builds 5 powerful relationships that make the love lessons in this film off the charts. Secretariat triumphs with a winning team that Penny creates:
Triple Crown Champion Team
1. Intuitive Horse – Penny believes in Secretariat with all of her heart, and her relationship with the horse inspires everyone on her winning team. Watch the powerful non-verbal messaging between the owner, champion and crowds. Secretariat's charisma and personality won the hearts around the world.
2. Insider Ally – Margo Martindale (Miss Hamm) plays Penny's closest ally on the farm. When her brother and husband want to sell Secretariat, Miss Hamm shares a note from Penny's dad, Scott Glenn (Charistopher Chenery) saying she gets the last word on the horses.



3. Loyal Trainer – Before Secretariat is even born, Penny hires Trainer John Malkovich (Lucien Laurin). When her dad's old friend, Fred Dalton Thompson (Bull Hancock) recommends Lucien, her instincts and research tell her he is a must. Watch the movie to see how she wins his loyalty.
4. Dedicated Groom – Nelson Ellis (Eddie Sweat) is madly in love with Secretariat. He nurtures the champion horse with baths, groomings, meals, music, and even sleeps in the barn. My favorite scene is Eddie talking at dawn the day of the Kentucky Derby at Churchill Downs.
5. Money Backers – When Penny gets a long list of Nos from potential investors for Secretariat, she wisely goes to her competition, Jack Cromwell (Ogden Phipps) to get his support. You'll have to see the movie to watch her powerful negotiation skills that made her a very rich woman.
What makes this movie even more powerful is that it's based on a true story and book, Secretariat: The Making of a Champion by William Nack. No one wanted to believe Secretariat could win the Kentucky Derby, Preakness (which runs in Baltimore where I grew up watching) and the Belmont Stakes – but Penny and her Triple Crown Champion Team refused to give up! Check out this movie to see how her team and passion transform everyone around her!
When you're looking for Great Love, take a look at your team and relationships. If they're not making you feel fantastic, say next! Great Life Great Love is about building a Great Life to attract Great Love. The Great Love in Penny Chenery Tweedy's life is off the charts. If you want some more tips, you can sign up for Dating Coaching and/or Life Coaching. We love building success stories, and are here to help you!
Liz H Kelly, Great Love Reporter, Great Life Great Love, http://greatlifegreatlove.com, 2010