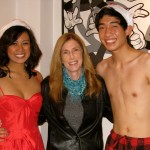 by Liz H Kelly
Great Life Great Love is all about helping you attract the Great Love that you deserve, and the holidays are the perfect time to get out there and take more chances. If you're one of the 97 million singles in the US (ages 18 and older), here are 10 Holiday Pickup Lines plus 5 Flirty Bonus Questions that can help you find great dates this season. For the best results, deliver these icebreakers with a big grin and confidence (It's all about the delivery, and confidence is the sexiest part of your wardrobe! And if you're sad, leave your glum at home or these lines won't work. Take my advice in the pickup department, "fake it until you make it.")
Don't be shy. Everyone is out mingling, and it's time to be brave and bold about approaching that cutie across the room with one of these clever openers. It's all about getting a conversation started. Once you break the ice, watch the body language clues. If someone smiles, this is a green light to continue. If they frown and run, just say Next!
10 Holiday Pickup Lines
1. Where's the mistletoe?
2. Love your – Fill-in-the-Blank (complement almost anything they're wearing)
3. Have you been naughty or nice this year?
4. Did you know that Pumpkin Pie gets a guy excited? (a study of 40 aromas for men ages 18-64 had pumpkin pie as the strongest stimulant)
5. What is your favorite holiday spice? Cinnamon, Nutmeg, or Old Spice?
6. Did you hear that smoking Nutmeg can get you high? (True, and great conversation starter)
7. Can I get your email so I can send you my holiday card?
8, Do you know which holiday special is the most popular? (Rudolph!)
9. What color are the lights on your tree? (Warning – this one can be dangerous!)
10. If you could be anywhere on New Year's, where would it be? (This one can give you clues about whether they're already booked or free.)
Because many singles hibernate in January, we want to give you extra ways to break the ice for Christmas, Hanukkah, New Years, and Quanza. If the Top 10 Holiday Pickup Lines don't work, here are 5 Flirty Bonus Questions:
1. Did you make the eggnog? It's got a nice kick.
2. Are you more of a Frosty or Rudolph fan? Why?
3. Who's your favorite reindeer?
4. Would you like me to toast you a marshmallow over the fire?
5. Can I get your cell so I can text you a New Year's kiss?
And if all of these don't work, you can always ask, "Are you on Facebook?"
Once the holidays are over, you can find more dating and relationship tips on Great Life Great Love, and/or contact us for Love Coaching or an Internet Dating Profile Makeover. Our goal is to bring out your best, and help you attract your type faster! Everyone deserves great love, and especially over the holidays!
Happy Holidays!
© Liz H Kelly, Great Love Reporter, Great Life Great Love, http://greatlifegreatlove.com, 2010