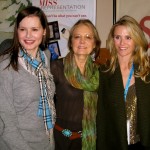 by Liz H Kelly
After coaching both men and women how to increase their self-esteem as a Life and Love Coach, the celebrity panels for Miss Representation and Women in Film at the Sundance Film Festival hit close to home. My latest project, Great Life Great Love, is about helping singles build a Great Life to attract Great Love. If you love yourself first, it's much easier to attract great relationships. We all want to feel good inside, and it's important that media images fuel confidence over fear. With 51% of the US population being female, Miss Representation is a call-to-action for both men and women to change the media perceptions of women.
Sundance is buzzing this year about the documentary, Miss Representation, and the panel after the premiere shared powerful insights from the film. This Levi's sponsored event featured Jennifer Siebel Newsom (screenwriter/director, Miss Representation), Geena Davis, Gloria Steinem, Barbara J. Berg (Author), Jim Steyer (Common Sense Media) and Pat Mitchell (President/CEO Paley Center for Media and Former President/CEO of PBS) as the moderator. It's no surprise that all Sundance showings for this film are sold out because Jennifer Siebel Newsom's film includes important messages about how women are portrayed by the media and interviews with role models such as Katie Couric, Jane Fonda, Lisa Ling (OWN Producer), Dr. Condoleezza Rice, Margaret Cho (Comedian), Daphne Zuniga, Paul Haggis and many other female and male influencers.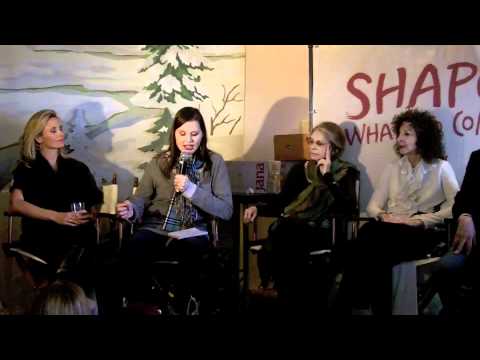 During the Miss Representation panel, Geena Davis shared her passion for empowering women, what it was like to play the first female president on TV, and results of a recent study about how women are portrayed by the media to children 11 and under. Geena shared, "Consider this. In G-rated movies, the female characters wear the same amount of sexually revealing clothing as the characters in R-rated movies. So what message are we sending to both girls and boys at a very very vulnerable age…if the female characters are one-dimensional, side-lined, hyper-sexualized or simply not there at all? What we're saying to them is that women and girls have far less value in our society than men and boys."
Pat Mitchell closed the panel by asking everyone to get involved. Pat added, "The one thing that Jenn's film reminds us of,…is gender is not a zero sum game… We're not talking about women win, men loose…Women's roles change, men's get worse. No. We are all in this together." To get involved visit, Miss Representation, http://missrepresentation.org or Levi's Shape What's to Come.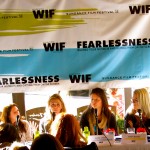 On the next day, Women in Film (WIF) held a brunch where Jennifer Siebel Newsom spoke on their panel about her film, Miss Representation. The theme for this WIF event was "Fearlessness." Their panel featured female leaders in the entertainment business including: Joslyn Barnes (executive producer, The Black Power Mixtape), Karin Chien (producer, Circumstance), Annie Roney (Managing Director, ro*co films international), Susan Saladoff (director, Hot Coffee), Cathy Schulman (Producer/President of Mandalay Vision and WIF, Salvation Boulevard, Another Happy Day), Sandra Valde-Hansen (Cinematographer, KABOOM!) and Moderated by Lucy Webb (producer for WIF Los Angeles.)
If you want some self-esteem boosters, Contact Us for my free 10 Confidence Boosters, and/or contact me for Life Coaching. And for more Sundance updates and love lessons from the big screen, visit Great Life Great Love. We saw some great films in Park City this year, and will be posting Great Love Reviews, more panel videos and celebrity photos.
(c) Liz H Kelly, Great Love Reporter, Great Life Great Love, 2011